Cycling is an excellent form of exercise. Not only does it help you to stay fit, but it also serves as a great outlet to explore the outdoors. Staying safe and comfortable contributes to a more enjoyable cycling experience. Hence, having the right accessories is a must. This article will share some essential bicycle accessories and the reasons why you need them.
1. Helmet
Deemed as one of the most critical accessories for any cyclist, a helmet reduces the risk of serious head injuries by protecting your head in the event of a fall or collision. A suitable helmet should fit your head snugly. Make sure it covers the forehead and the back of the head. When it comes to the chin strap, adjustability and comfort is crucial. It is highly recommended to look for helmets that are certified by safety organisations such as the Consumer Product Safety Commission (CPSC). After getting a helmet, do also assess if bicycle repair is required, ensuring your bicycle's good condition.
2. Cycling gloves
Cycling gloves provide a better grip on the handlebars, making them another essential accessory that ensures a safer journey. Apart from decreasing the risk of slipping or losing control, cycling gloves also protect your hands from calluses, blisters, and vibrations that can cause fatigue. Go for lightweight gloves that are breathable, and come with padded palms for extra comfort. Some gloves even feature touchscreen-compatible fingertips, enabling you to use your smartphone or GPS without the need to take them off.
3. Cycling water bottles
Whether you are opting for bicycle rental or using your own bicycle, remember to stay hydrated throughout your ride. Having a water bottle on you allows you to consume adequate water for constant hydration. Water bottles that are easy to grip and come with a secure lid is an ideal choice. On top of that, a bottle cage can also help attach the bottle to your bike frame, saving you the hassle of carrying the water bottle in your backpack or pocket.
Learn more: Factors to consider before renting a bicycle
4.Lighting parts and accessories
Are you planning to cycle in low-light conditions? Installing the right lighting accessories should be taken into account. Rear lights enhance your visibility from behind whereas the front ones illuminate the road in front of you. There are a number of lighting options available for selection, so feel free to choose one that matches your needs and budget. You may consider opting for lights with different brightness modes and rechargeable batteries for convenience. With one of our bicycle shops operating at East Coast, Coastline Leisure offers different bicycle spare parts. We also manage installation, maintenance, and bicycle assembling services for all types of bikes.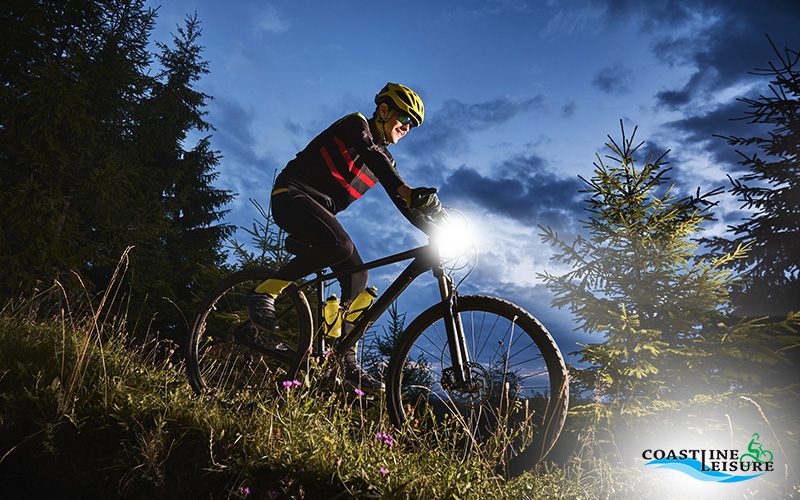 Bicycle accessories make your ride safer, more comfortable, and enjoyable. You may want to consider adding on, depending on your personal needs. With the right accessories, you can indulge in fun rides and new routes discovery.
As a trusted and long-time bicycle repairing service provider, Coastline Leisure provides various repair services and the best possible solution to address your bike repair needs. Whether you require a bike tune up or other bike fixing services, we are here to help at an affordable rate. In search of a reliable bike accessories shop in Singapore?
Call us now to get a service quotation.