Why you should rent a bicycle instead of buying one
Cycling is undoubtedly one of the easiest modes of transport in town. With its eco-friendliness and ability to offer health benefits, cycling has become people's favourite leisure outdoor activity nowadays. Before embarking on your two-wheel journey, be sure to get the most essential equipment, a bicycle. Bicycle rental is no longer a new phenomenon in Singapore, with more bicycle rental services made available. This might have you wondering: Should I buy my own bicycle or simply rent one? To ease your doubts, we have compiled a list of reasons why renting a bicycle may be more beneficial than buying one.
1. Renting a bicycle is cheaper
Bicycle rentals provide you all the fun of cycling without worrying about cost. Often, renting a bicycle is more cost-efficient in the long run, compared to buying one. This is especially so for non-regular riders who only bike once in a while. Moreover, bicycles may lose their worth in a couple of years. On top of the depreciation of value, owning a bicycle also means setting aside support expenses for bicycle repairs and maintenance. As a result, you may end up spending way beyond your expectation, while stressing over punctured tires and other hassles. On the other hand, renting a bicycle involves only paying the charging rate without incurring other unnecessary costs. You may even opt for bicycle rental packages to leverage the best deal.
2. Wide variety of bicycles for rent
Renting a bicycle gives you admittance to different types of bicycles, with the opportunity to ride new models. Instead of scratching your head at a bicycle shop wondering which bicycle to buy, just rent one and enjoy the fun of cycling at East Coast. The best part? Bicycles for rent are provided in tip-top condition. Here are some common types of bicycles for renting:
Specially built for riding off-track, mountain bikes feature a flat handlebar for better balance and equipped with frames and wheels that can withstand resistance from steep climbs, rough terrains and other obstacles.
Also known as a utility bike, a city bike is comfortable to ride on. It is designed for cyclists to sit upright instead of bending forward.
If you are looking for an enjoyable cycling experience with your little ones, rent a child bike from any of our bicycle rental service providers at East Coast Park. An ideal child bike should be easily steered and come with quality hand brakes. Your little one should be able to sit comfortably on the bicycle and see their surroundings without difficulty.
A folding bicycle can be folded into a compact form and hence, is easily carried on public transportation and to places.
A family bike is fun and versatile. It enables you to share the joys of a bike ride with your loved ones, enhancing family bonding. Moreover, the environmental-friendly family bike also replaces a greenhouse gas-emitting vehicle for trips.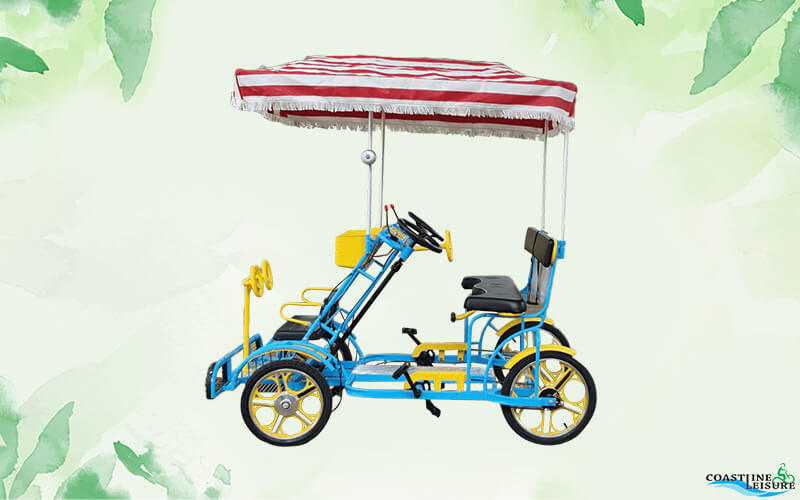 With the myriad of bicycle types and models for selection, bicycle rentals provide convenience and pleasure for cycling enthusiasts.
3. Greater peace of mind
When it comes to unforeseen circumstances like theft, brand new items are more highly targeted compared to used items. Therefore, renting a bicycle means being able to put such worries out of your mind.Furthermore, bicycle rental companies offer theft and damage insurance to protect their clients against any potential extra costs for repairs and bike parts. The insurance usually covers a punctured tyre, a stolen bike seat and any other small damages. This helps to ease the burden of bearing significant expenses on structural damage.
All in all, renting a bicycle brings with it many benefits. If you're looking for bicycle rental services in Singapore, look no further than Coastline Leisure!
Coastline Leisure offers bicycle and skate rental services in Singapore. We handle our bicycles with care as we value your safety and user experience. Call us today to find out more.